Most Virtual Stores with QR Codes can be found in public places, like subway stations, malls and bus stops. But it doesn't have to stop there.. the possibilities of QR Code virtual store placement are endless and there are some creative ways to let the store come to your customer! In this article we showcase how you can use QR Codes (or barcodes) to innovate your relationship with the customer. And the best news is; you can incorporate QR Codes into your current marketing strategy.
Indoor and in-shop virtual store
As a physical shop, you already have the possibility to present your customers with a real version of your products, which they can pay for. However, having a virtual store inside your store (store-in-store) can boost the customer experience and the provided services.
Sell outside opening hours (24/7)
One of the biggest disadvantages of offline stores is their limited opening times. When the majority of your customers return from work, your shop is closed for business and your customers only see store security panels with your shiny products behind them. By presenting your products on the outside of the store panel, you can keep your shop open 24/7 without extra cost and give your customers a continuous shopping experience.
Expand your product range
Many of our partner shops use Virtual Stores to present their customers with a greater product range than they can fit inside their shop. By simply printing out a poster with additional products that are too large, too heavy or otherwise too bulky to present in the store, the consumer can have the greatest ease experiencing the product on their mobile device, with all the rich media like video, images and extensive information. The customer can then address a shop representative for questions or decide to order the product on their mobile.
Rich media for every product
If your company has a narrowcasting channel or tv screens inside the stores, you already have an enhanced product presentation. Why not take it that bit further and give your customer the possibility to act upon their inspiration? A QR Code that provides an instant discount or dynamic info about the product might just give that extra bit of information your customers are looking for. Make sure that the QR Code is at scannable height and stays on the screen long enough.
Outdoor and Out-of-Home marketing
The tagline "The World is Your Store" says it all; your potential customers are everywhere, why not come to them? By presenting your products in the outdoor public space, your store can be placed in high-traffic areas where people can be inspired by your presentation.
Commercial facings in high-traffic areas
One of the best ways to use customer potential is to stand out by using outdoor advertising presentation. Companies like CBS Outdoor and JC Decaux can help you distribute your QR Code shop campaign and reach your target group. A word of advise; select your outdoor advertsiement facing carefully, it must be scannable and in a place where people can stop, scan and complete their order.
Public transport and use of transit time
Many companies have already succesfully published their virtual store in subways, train stations, bus stops and metro stations. Public transport embodies many success factors;

high traffic areas (lot of people walk by)
transit time and waiting time (perceived as 'lost time')
huge reach, valuable target audience (working people see it every day)
convenience (most shops are already closed when you travel home)
current mind-set (using mobiles and stopping is socially accepted)
These factors make public transport the number 1 potential to present your virtual shop, and results have proven to be extremely high in these areas (Tesco, Ahold, Well.ca and Woolworths)
Moving, mobile and pop-up shops
Let the store come to the people can be a very welcome convenience for people who don't use public transport or stay within a specific live-work area. A beautiful example is the Walmart / Procter & Gamble pop-up and mobile store.
The campaign, launched in June 2012, encompasses pop-up stores in bus stops throughout Chicago and New York, while trucks and buses, branded with Walmart / Procter & Gamble products visit high traffic locations such as Big Apple Barbeque Block Party, Union Square Park and the Fashion District. By focussing on urban environments and literally briging the store to the consumer, Walmart and Procter & Gamble deliver instant convenience to the working public.
On-Product QR Code mobile shops
As you know, a single QR Code to a virtual store can be used to direct a customer to your mobile shop. As a (mobile) shop owner, think of the possibilities of placing QR Codes on the products you sell. For instance products that can be reordered with a simple scan, rich media information on price tags and cross-selling / up-selling within your mobile shop!

Re-ordering your products by scanning a QR Code
This option is specifically effective for products that can 'run out' or require frequent purchase, such as razor blades, cleaning goods, food products, contact lenses and batteries. By simply placing a QR Code to the product in your mobile webshop, when the customer needs to reorder the product, he or she can just scan the re-order QR Code and receive the refill the next day!
Price tag and rich media experience in stores
Fashion stores already extensively rely on rich consumer experience by presenting clothes in creative and attractive ways. By placing a QR Code to your product page on any of the price tags or other parts of the products, your customer can receive extensive rich media information (video, images, options)
Cross-sell and up-sell with one scan
So you have a real-life product, people can touch it, see it in 3D and try it out. The customer is inspired and enthusiastic about the product and is using it at home, so the step to up-sell and cross-sell becomes evident. In your mobile shop, you can present your buyer with an attractive discount when (re)ordering and provide an exclusive experience.
Dynamic TV, web and broadcast virtual stores
The Dynamic shops lift your store to a higher level and aligns you with current trends. Where posters only succeed in providing a static image of your products, a dynamic shop can present your store in an animated and explanatory way. As a shop owner you can change products that are shown, create an urgency (only 10 items left, 12 minutes remaining) and invite the customer to act!
Outdoor and indoor TV, plasma screens and beamers
The high-contrast dynamic screens are slowly taking over our street view and places of public interest. Looking at Times Square in New York or Piccadilly Circus in London gives you a hint on what to expect in the near future. These screens capture your attention and with just the right incentive (such as a discount), you invite people to interact!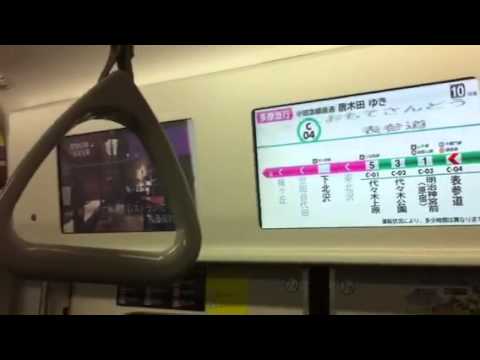 Narrowcasting adverts in outdoor public places
There are several providers of public place narrowcasting, usually showing ads, news & weather and traffic information. The ads shown can inspire consumers to visit the website when they are back home, but there's no action involved. Showing your products dynamically can draw the viewer to your mobile webshop immediately and provide them with extra information.
TV programs (home shopping, tel-sell)
Many home shopping channels have already adopted the use of QR Codes in their programs. The reason is that they create an immediate interactive online shopping experience just by enabling the viewer at home to point their iPad, tablet or smartphone at the screen and instantly purchase the product, without having to call a hotline. The use of constant triggers and incentives (22 items left, buy now!) helps to convert the sales pitch into an impulsory purchase.
Printable media, brochures and walking shops
Print media still remains an extremely powerful instrument. Marketing and advertising is getting more and more interactive and creative, and boundaries of print media are being found every day. The biggest disadvantage of print media however is that it's static. By creating a link between the offline print media and the online website and mobile shop, an optimal collaboration can be created.
Walking shops on coats, t-shirts and other clothing
In every big city, mall or shopping street, promotional teams can be found introducing new products, raising money for charities or interviewing the public. A big barrier is formed in two ways; many people don't want to interact with these teams and a team member can only interact with one person at a time. For charities big opportunities lie in printing a QR Code on the clothing of these promotional teams, thus enabling everyone who passes to donate simply by clicking the 'Donate' button on their mobile phone.
These 'walking shops' can also be fully tracked, so the commission and revenue can be pinpointed to the exact person wearing the clothes. The ease of not carrying around papers and lifting the restriction of not helping more than one person at a time are two big reasons to invest in a custom printed QR Code.
Hand-out brochures and door-to-door magazines
There are two huge reasons to consider utilizing door-to-door and handout brochures to present your QR Code virtual store. Around 20% of sales in any webshop are currently done with a mobile device. About 75% of these sales are done by iPad in the evening, when people are relaxed and are checking their paper mail.
The combination of having an iPad, having the time and browsing through the deals presented in the paper mail, makes the paper QR Code virtual store extremely valuable. As your products are already being presented in the safe home environment of your consumers in a familiar manner, conversion rates are potentially extremely high.
Business cards and gifts
Everything you can print on makes a potential product presentation using QR Codes. As a shop owner, having a business card is perhaps less interesting than having a small piece of paper presenting your best products. This company business card can contain about 4 to 10 products, presented in the best possible manner and everyone getting a discount from this paper is a lucky consumer!